Boston Excavation Services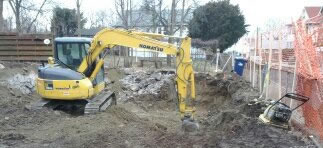 D.A. Welch Construction specializes in providing complete poured concrete foundation service packages for excavation through to concrete for homes and additions, leaving your site ready for the framing contractor.
Our Boston excavation contractors are experts when it comes to preparing construction sites for poured concrete foundations, from digging foundations for houses to commercial building foundations. When coupled with our expertly executed excavation services, you can rest assured that your poured concrete foundation will be stable and even stronger, minimizing the risk of concrete cracks and other damages.
Our Boston excavation services are for both residential and commercial application. With a keen eye for detail and solid training in safety and proper construction and demolition practices, you can rely on D.A. Welch Construction for all your excavating and poured concrete needs in Boston, Newton and the surrounding areas of Massachusetts.
Our Boston Excavation Contractors Provide These Services
Excavating
Soil Excavation
Digging Foundations
Excavation
Building Foundations
House Foundations
Excavation Company
Excavation Contractor
Basement Excavation
Concrete Foundations
Pouring Concrete
Poured Concrete Foundations
Why Boston Should Hire Us for Their Foundation Excavations
When you need soil excavation for installing a concrete foundation, put your trust in an expert Boston excavation contractor with over 25 years of expertise in poured concrete construction services - call D.A. Welch Construction. We are a fully licensed and insured Boston poured concrete and excavation company, and our professional staff is fully trained and ready to take care of all your excavation needs.
Our expertise in excavating and pouring concrete foundations has satisfied many residential and commercial clients, ensuring their construction projects are completed quickly and accurately. With our combined service package of excavating and pouring concrete foundations, you can rest assured that your new concrete foundation will be professionally constructed using high-quality materials and equipment for a precise, strong and durable base. Contact us today to request an up-front estimate for the cost of your excavation needs.
Recent Articles about Excavation
If you are looking for a Boston excavation contractor then please call (617) 698-7268 or complete our online request form.