Boston concrete Piers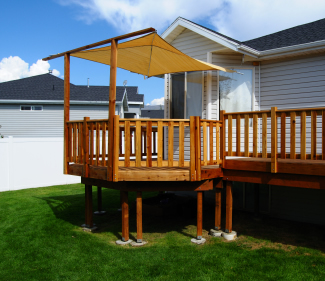 Whether you are building a deck, raised gazebo or some other addition to your home or commercial property, let D.A. Welch Construction ensure there is a solid base of concrete piers in place to keep your new construction stabilized.
Having a solid foundation for any raised platform is necessary to eliminate the risk of your new deck or other construction project from sinking or toppling over. An inefficient or poorly designed foundation system can cause serious damages to both the structure of your new construction as well as the safety of those nearby. You wouldn't put your house on a faulty foundation. Likewise, your decks, patios, and other raised platforms should be supported with the proper foundation of concrete piers.
At D.A. Welch Construction we are experts when it comes to constructing solid poured concrete piers in the Boston area. Our professionally trained Boston concrete piers contractors are familiar with various soil conditions and load requirements for determining exactly what type and how many concrete piers your new construction will need to ensure it is properly stabilized. So if you are building a deck or other raised platform construction in the Boston area, don't leave the stability of your structure up to chance. Give the Boston concrete piers experts at D.A. Welch Construction a call, and ensure your project is done right.
Our Boston Concrete Piers Contractors Provide These Services
Concrete Piers
Concrete Foundations
Concrete Slabs
Poured Concrete Foundations
Pouring Concrete
Excavation
Concrete Molds
Concrete Deck Foundations
Concrete Footing
Concrete Reinforcement
Slab Foundations
Foundation Piers
Why Boston Should Hire Us for Their Concrete Piers
When building a deck or raised platform in Newton, MA or the surrounding areas, call the Boston poured concrete contractor you can rely on to install a solid foundation of concrete piers quickly and accurately - call D.A. Welch Construction.
At D.A. Welch Construction we are a fully licensed and insured Boston concrete contractor with over 25 years of experience providing residential and commercial poured concrete and excavation services. Our team is made up of professionally trained concrete specialists, equipped with the proper tools and equipment to ensure your project is completed on time and on budget. We only use high quality materials when constructing poured concrete piers, so you can rest assured that the piers we build for you will be solid, sturdy and long lasting - the perfect base for any construction project! Contact us to request an up-front estimate for the cost of your poured concrete piers today.
Recent Articles about Concrete Piers
If you are looking for a Boston concrete piers contractor then please call (617) 698-7268 or complete our online request form.