Boston Poured Concrete Foundations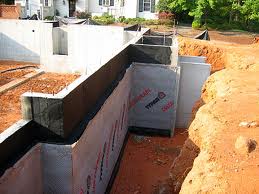 D.A. Welch Construction specializes in providing complete poured concrete foundation service packages for excavation through to concrete for homes and additions, leaving your site ready for the framing contractor.
Our Boston poured concrete foundations service ensures that you have a commercial building or house foundation that is solid all the way through, offering increased dependability and durability. The seamless structure of poured concrete foundations is highly beneficial during construction as it provides a higher level of water resistance and strength, essential factors for building and house foundations. Poured concrete foundations also require less maintenance (such as costly crack repairs) as they are considerably strong. Plus, at D.A. Welch Construction, our team of expert Boston poured concrete foundations contractors can provide you with fast project completion since this type of concrete foundation is easy to install.
Coupled with our excavation service, which further increases the durability and strength of poured concrete foundations, you can rest assured that D.A. Welch Construction's Boston poured concrete foundations experts will provide you with a concrete foundation for your home or business that is constructed quickly, safely, and professionally with quality results that provide you with a long-lasting and solid base for your construction project.
Our Boston Poured Concrete Foundation Contractors Provide These Detailed Services
Poured Concrete Foundations
Excavation for Concrete Foundations
Concrete Flooring
Poured Concrete
Concrete Floors
Concrete Slabs
Concrete Retaining Walls
Concrete Contractors
Concrete Foundations
House Foundation
Building Foundation
Concrete Pouring
Why Boston Should Hire Us for Their Poured Concrete Foundations
D.A. Welch Construction has over 25 years of experience serving the poured concrete foundation needs of residential and commercial customers throughout Boston, Newton and the surrounding areas of Massachusetts. Our expertise has satisfied many clients, ensuring their projects are completed correctly and safely as well as on time and on budget. D.A. Welch Construction is a fully licensed and insured Boston poured concrete contractor, and our staff of of professionals are fully trained and ready to take care of all your poured concrete foundation needs.
At D.A. Welch Construction, our Boston poured concrete foundations experts take pride in their work and in providing home and business owners with reliable service. With our combined service package of excavation and poured concrete foundations, you can rest assured that your new concrete foundation will be professionally constructed using high-quality materials and equipment for a precise, strong and durable build by a dependable Boston concrete contractor at an affordable price. Contact us today to request an up-front estimate for the cost of your poured concrete foundation project.
Recent Articles about Poured Concrete Foundations
If you are looking for a Boston poured concrete contractor then please call (617) 698-7268 or complete our online request form.