Accord Concrete Foundations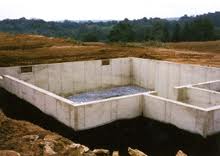 When it comes to poured concrete, D.A. Welch Construction is the Accord concrete contractor you can trust for quality results. We specialize in providing complete poured concrete foundation service packages that include excavation and pouring concrete for the foundations of homes and room additions, leaving your site ready for the framing contractor. From the professional equipment and high quality material we use to the skills and expert knowledge of our fully trained Accord concrete contractors, you can rest assured that D.A. Welch Construction will provide you with Accord poured concrete solutions that will provide you with a long-lasting and solid base for your construction project, ensuring structural integrity and durability.
Coupled with our Accord excavation service, which further increases the strength of a poured concrete foundation, D.A. Welch Construction's Accord poured concrete services provide a foundation for your home or business that is constructed quickly and safely. Poured concrete is the way to go, whether you are looking at building a retaining wall, house foundation, or concrete floors; and at D.A. Welch Construction we are the Accord poured concrete contractor you can rely on for affordable concrete services done right! Call us today to learn more about our concrete services and to receive an up-front estimate for the cost of your project.
D.A. Welch Construction - Accord Excavation
D.A. Welch Construction is an expert in Accord concrete foundations construction. With over 25 years of experience in the industry, you can rely on the expertise of our concrete contractors. From retaining walls to concrete foundations for houses, residential and commercial property owners turn to D.A. Welch Construction again and again because they know we offer quality service in a fast and affordable manner.
Our Accord excavation specialists are experts when it comes to preparing for pouring concrete foundations for homes and businesses. When coupled with our expertly executed excavation, you can rest assured that your poured concrete foundation will be more stable and even stronger, minimizing the risk of concrete cracks and other damages.
We provide Accord excavation services for both residential and commercial application. With a keen eye for detail and solid training in safety and proper construction and demolition practices, you can rely on D.A. Welch Construction for all your Accord excavation and poured concrete needs. Contact us today to discuss your project. From our detailed project completion schedules and up-front cost estimates to the quality and efficiency in which our concrete contractors finish the job, you'll be glad you choose D.A. Welch Construction for your Accord excavation and poured concrete needs!
Accord Concrete Floors
The concrete industry is a highly specialized field, so it is important to find the right Accord concrete contractor for your project. If you are looking for someone to take care of installing or replacing your Accord concrete floors, don't trust just anyone with the task - call an expert. Call D.A. Welch Construction.
At D.A. Welch Construction our many years of experience pouring Accord concrete floors makes us the optimal choice for your residential or commercial concrete flooring project. Not only do we have the proper equipment and expertly trained staff, but we use high quality materials to ensure long lasting, durable results. Plus, our experience and knowledge makes it easy for us to quickly finish the installation of your Accord concrete floors without sacrificing quality or attention to detail!
From concrete flooring for the basements of homes to high traffic concrete floors used in commercial and industrial buildings and garages, D.A. Welch Construction is the Accord concrete floors expert you can depend on to get the job done.
Accord Concrete Contractors
Poured Concrete Foundations
Concrete Floors
Retaining Walls
Concrete Flooring
Poured Concrete
Excavation
Concrete Slabs
House Foundations
Concrete Driveways
Pouring Concrete
Concrete Contractor
Accord Retaining Walls
Homeowners use retaining walls for several different purposes. If you have a steep slope somewhere around your home, you can turn that area into a lovely terraced yard by installing skillfully placed retaining walls. Have a contoured lot? Consider a retaining wall to add structural integrity.
From retaining earth to adding an interesting landscaping design element, retaining walls add both value and landscape security to homes throughout Accord, MA. Sometimes, however, building Accord retaining walls can get costly depending on the height, length and type of material being used. This is why many homeowners and commercial property owners alike often times choose concrete when constructing retaining walls for their lawns.
Concrete is an excellent material to use when building Accord retaining walls as it is a durable yet affordable material. Virtually maintenance free, poured concrete Accord retaining walls are a great addition to any home. If you are looking into placing retaining walls on your Accord commercial or residential property, call the poured concrete experts at D.A. Welch Construction today to learn more about our concrete retaining wall services.
The Services We Provide in Accord, MA
Recent Articles
If you are looking for a professional Accord poured concrete contractor then please call (617) 698-7268 or complete our online request form.